Amano - accompanied by Greenland's premier, Kim Kielsen - visited the Kvanefjeld site in the south of Greenland last week during a trip that also took him to the Danish capital Copenhagen. Whilst in Greenland, he met with members of the government of the Southern Municipality, as well as representatives from Australia-based Greenland Minerals and Energy Limited.
Greenland Minerals completed a feasibility study for its Kvanefjeld uranium and rare earth element project in southern Greenland in May 2015. In November of that year, the project received pre-hearing approvals from the government of Greenland and moved into the permitting phase. The government also approved the terms of reference setting the agreed initial development strategy for Kvanefjeld. In January 2016, the governments of Denmark and Greenland signed of a series of agreements setting the framework for future cooperation on foreign, defence and security policy issues related to the mining and commercial export of uranium.
Amano said, "Protection of the public and the environment in mining is crucial. I am pleased to learn that the authorities of Greenland have been working hard with the safety and security preparations for the possible mining operations." He noted that stringent regulatory oversight and industrial best practices must be followed during the uranium mining project.
The IAEA said it has been cooperating with the authorities of Greenland and Denmark on the project, and conducted a workshop on uranium production in Copenhagen in 2014, which covered issues pertaining to this field, including international safety and security standards and requirements.
Whilst in Copenhagen, Amano met with Denmark's minister for foreign affairs, Anders Samuelsen, with whom he discussed cooperation between the IAEA, Denmark and Greenland in relation to the Kvanefjeld project, as well as wider international issues.
In June 2015, Greenland Minerals formally announced JORC-compliant maiden ore reserves for the Kvanefjeld project. Total ore reserves of 108 million tonnes contain uranium at 362 ppm U3O8, comprising 43 million tonnes of proven reserves with 352 ppm U3O8 (12,834 tU) and 64 million tonnes of probable reserves with 368 ppm U3O8 (19,970 tU).
Researched and written
by World Nuclear News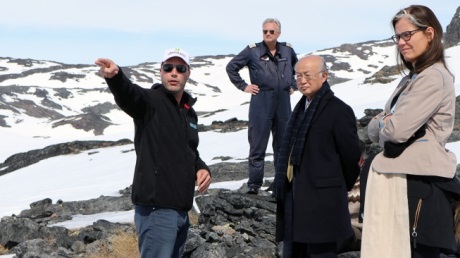 Authorities in Greenland have carried out robust safety and security preparatory work for a possible rare earth and uranium mine, International Atomic Energy Agency (IAEA) director general Yukiya Amano noted during a visit to the country.